We're Getting Mutants in the MCU - The Loop
Play Sound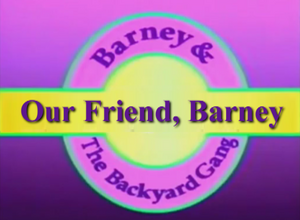 Our Friend, Barney is a Barney and the Backyard Gang video released on April 26, 1988. This video begins the start of the Barney franchise.
Plot
Two kids named Michael and his sister Amy are seen coming home from their last day of school, and after they play in their clubhouse. Just when they wish that they had a make-believe friend to play with, their stuffed dinosaur comes to life. Michael and Amy are shocked to see that their stuffed dinosaur had come to life. So after the kids introduce themselves, Barney introduces himself through song, and the kids sing along with him. After Barney and the kids get acquainted with one another, they spend an entire day of play. Barney and the kids pretend to be many things and learn the importance of imagination. After their whole day of play, Michael and Amy's mom and dad are coming saying that it's almost time for dinner. Barney tells the kids to keep him a secret from their mom and dad. Barney starts to sing his favorite song, "I Love You", and after that, he turns back into a toy dinosaur. Michael and Amy go back into the house to eat their dinner.
Cast
Barney (Costume: David Voss, Voice: Bob West) (debut)
Michael (Brian Eppes) (debut)
Amy (Becky Swonke) (debut)
Mom (Sandy Duncan) (debut)
Dad (Bob Reed) (debut)
Songs
Barney Theme Song (Shortened)
A Friend to You and Me
Head, Shoulders, Knees, and Toes
When I'm Older...
If You're Happy and You Know It
Do You Know the Muffin Man?
Take Me Out to the Ball Game
I Love You
I Love You (instrumental)
Trivia
This would've been not only the first video of this series, but also the true beginning of the Barney franchise in general.
This would've truly marked the grand debut of Barney The Dinosaur, along with the first appearances of Michael, Amy, and Michael and Amy's parents. Tina, Luci, Jason, and Adam would've made their first appearances in the next video, "The Backyard Show".
Barney sings "I Love You" at the end of this video.
In this video, we learn that Barney was to be kept a secret from the parents. This running gag would last until the TV series, Barney & Friends, where the adults are also allowed to interact with him.
This is the first Barney video to be released by The Lyons Group, Kids Edutainment, and DLM, Inc.
This video has the first use of the 1988 Barney costume.
When first released, the video only appeared in few stores and sold poorly.
Gallery