Notice:
As of Wednesday, September 15, 2021, you will have to have an account to edit here. This is required to be in compliance with a U.S. law and Fandom polcies. See Account to be required on Sept. 15, 2021 for more details.

Custom Barneypedia is a collaborative website about Barney the Dinosaur where you can make your own episodes/videos/books/etc. of Barney & the Backyard Gang and/or Barney & Friends. Have fun!
DISCLAIMER: Not all Custom shows will get in if the admin finds a article unfit for the site he or she will delete it.
This is not to discourage you or bash your fan shows but more to make sure the experience of the site is fun for all! You are more then welcome to post the deleted article on Custom Barney Wiki or come back when you've retooled it we'd love to hear your idea regardless of it being deleted prior.
Note: Vandalism by anyone won't be tolerated.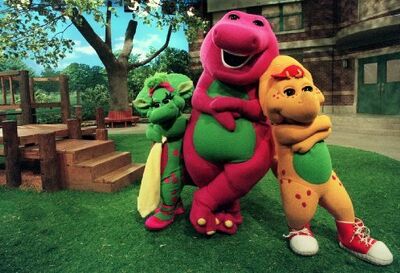 New pages