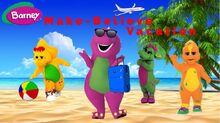 Barney's Make-Believe Vacation is a Season 15 video released on March 8, 2016. This video uses some elements from "You Can Be Anything"
Plot
After Brandon leaves to go on a vacation, the kids wish they could go on a trip, too. Barney comes to life and takes the kids to the Imagination Airport. While there, they fly to a jungle, the Arctic, the woods to go camping, and a beach.
Cast
Barney (Body: TBA) (Voice: TBA)
Baby Bop (Body: Lauren Mayeux) (Voice: Julie Johnson)
BJ (Body: Jared Harris) (Voice: Patty Wirtz)
Riff (Body: Adam Brown) (Voice: Michaela Dietz)
Noah
Jenna
Bethany
Cody
Brandon (cameo)
Mr. Pepperoni the Pizza Chef
Songs
Barney Theme Song
If You Imagine
The Airplane Song
Jungle Adventure
Our Animal Friends
It's C-C-Cold! BRRR!
Winter's Wonderful
Sledding, Sledding
A Camping We Will Go
And the Green Grass Grows All Around
S'Mores
Nothing Beats a Pizza
Mister Sun
The Fishing Song
If I Lived Under the Sea
It's Good to Be Home
I Love You
Trivia
The snowman costume is similar to the one in "Waiting for Santa".